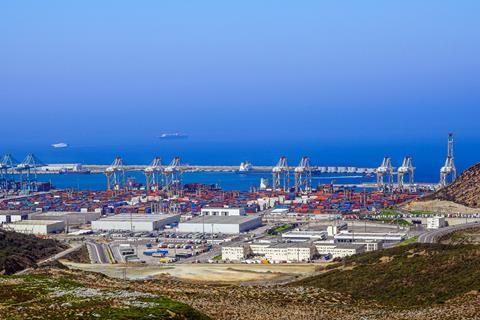 Moroccan exporters have had to battle with additional logistics costs and delays this year.
Before the pandemic, 60 per cent of the citrus that Agadir-based producer Cooperative Agricole M'brouka shipped to Canada was sent in reefer containers.
For the US market meanwhile, much of its 10,000-tonne export deal went in around 16 small bulk reefer vessels, which typically carry around 5,500 pallets each.
But last season, those conventional shipments went up to 7,000 and even 8,000 pallets in order to compensate for the spiralling cost of reefer boxes.
Meriem Soulali, commercial manager at M'brouka, told a live freight forwarders' conference organised in the country last week by OceanX that reefer vessel charters remain the way to keep supply lines to the North American market open.
"At the beginning of the pandemic we faced a lack of demand from wholesale markets, not just in North America but on other markets as well. This impacted our business, especially during lock down," Soulali explains.
The company produces clementines (Nour, Nadorcott/Afourer) and oranges (New Hall, Salustiana, W Sanguine, Navel Late, Cambria and Maroc Late). Its clients in North America are Costco in the US, and Loblaws and Sobeys in Canada.
More generally, the company has developed a very good business relationship with retailers and has therefore managed to steer clear away from most problems.
In fact, since more than 80 per cent of M'brouka's business is with the retail sector worldwide – for example in Poland (Tesco), France (Casino), and Sweden (ICA and and Axfood) – the cooperative withstood the overall impact of the pandemic.
"As an industry we were quick to follow all the sanitary requirements in the packing house, including the separation between different work areas and introducing daily controls of our nurseries," Soulali adds.
Positional problems
Another exporter involved in the OceanX meeting was Messem Maroc, a frozen fruit producer based in the harbour town of Larache near Tangier, en route to Rabat and Casabalanca.
It produces 18,000 tonnes of frozen strawberries and 1,200 tonnes of blueberries, as well as 500 tonnes of citrus. And it supplies some big names including Danone and Nestlé, which all use frozen berries in a variety of food products.
Logistics manager Imad Elghriss says the group experienced difficulties in convincing carriers to position reefer boxes where and when they were needed.
He adds that he is used to dealing with container carriers directly, but sometimes also works with Martico, a dedicated perishable forwarder based in Valencia.
"We have one big problem dealing with the carriers," he explains during a visit to the company's processing facilities.
"Once the number of boxes are being delivered to our premises, we have normally 30 days to pay and fill a container. During peak times, Messem packs up to nine containers a day. Freight forwarders can in some cases offer better conditions, which gives us another 15 days of leeway."
Congestion challenge
Messem operates a freezing plant, where fresh fruit from Driscoll's and Felgar arrives before being diced or sliced, and then frozen.
The company recently added raspberries to its range, and next year expects to double the volume of blueberries it sells.
This year, its greatest challenge – bigger than sourcing reefer boxes – has been congestion in North America, most notably causing delays in the ports of Norfolk, Portland and Seattle. "The longest trip last year took 62 days via the Panama Canal," Elghriss recalls.
To shorten the transit time to 31 days, on one occasion Messem opted for a route via the Port of Halifax to reach Seattle.
And although shipment times for frozen products might not be as critical as they are for fresh produce, each day lost with a ship waiting at anchor means Messem waits longer to be paid by importers.