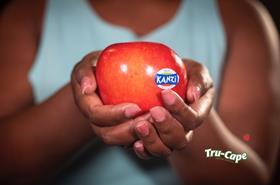 The TikTok social media platform has made headlines in the US recently for political reasons, but in South Africa one of the leading topfruit compnies, Tru-Cape Marketing, is using it to engage with young shoppers.
It is doing this through a healthy-lifestyle promotion aimed at increasing sales of the apple variety Kanzi.
Tru-Cape Marketing has engaged an interactive agency to produce a message which they believe young South African consumers will not be able to resist, and will hopefully send Kanzi onto a new level.
The company proposed the idea of a campaign using the Kanzi beat to interactive agency, Recode Media, and asked that they propose 'influencers' to help drive the message home.

According to Tru-Cape marketing director Conrad Fick, the group suggested TikTok for a successful lockdown campaign.
"A TikTok competition where entrants demonstrate how they get healthy with Tru-Cape and Kanzi apples, essentially a repeat of what we did during lockdown, using their own song, dancing or lip-syncing and a Kanzi beat is the plan," Fick explained.

With exercising hour restrictions also lifted, entrants have the chance to get out and be active, in turn promoting an overall healthy lifestyle. "Entrants will be asked to show us how they're getting active with Tru-Cape and Kanzi to stand a chance to win."
Tru-Cape has already secured strong Facebook, Instagram and Twitter followings, but TikTok seems particularly fast growing: "In a short period we have already grown TikTok followers to 1,059 and, based on the advice of Recode, selected influencers to help amplify the message,' he noted.

The Tru-Cape social media campaign is an indication how online activities will be used to promote the health-giving qualities of fruit.
Since the lockdown started in South Africa at the end of March, all gyms and fitness centres have been closed. One online fitness business, Jeff Together, changed the whole fitness business by combining healthy eating with exercise at home.
The initiative has shown unprecedented success with 45,000 people already signed up, in both South Africa and in 109 countries around the world.
The Kanzi hiphop or the Jeff skip – it seems as if one of the positives to come out of Covid-19 is healthy lifestyles, which will particularly involve young people and healthy eating.