Sector warns of significant losses unless situation is resolved swiftly
Chilean growers and exporters are calling for an immediate end to a truckers' strike which is jeopardising the country's fruit exports as the new season gets underway.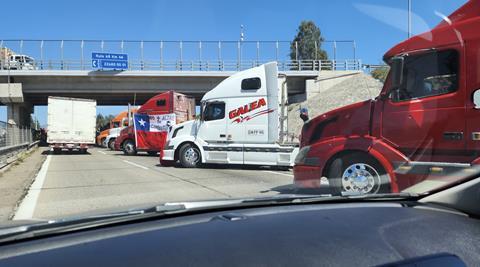 Fruit exporter federation Fedefruta said around 25,000 tonnes of cherries, equivalent to the cargo of two Cherry Express ships due to leave for China, are under threat as the walkout enters its fourth day.
Asoex warned that the strike had created a "critical situation" for shipments of fruit from the Port of Valparaíso, access to which has been blocked by the striking truckers.
The HMM Blessing, a Cherry Express service due to depart from the port on Wednesday night, will have been prevented from carrying its planned load of cherries due to fruit being unable to access the port.
Asoex president, Iván Marambio, said: "Once again our fruits are paying the costs of a problem that we have not caused, but that is having negative effects on our sector.
"This is serious, because it damages the external image of Chile and prevents us from complying with delivery dates to the detriment of our buyers and consumers in foreign markets who are waiting for our fruit."
Jorge Valenzuela, president of Fedefruta, said: "Just this Tuesday we inaugurated the 2022/23 season at the Port of Valparaíso, and we expect a very good campaign for early fruit such as cherries and blueberries. But first we must resolve the logistical knots, and this situation only makes the problem that much more serious."
Valenzuela said the movement of containers from the emblematic cherry-growing areas of the Metropolitan and O'Higgins regions, such as Paine, Rengo and San Fernando, was at a standstill, putting severe pressure on producers.
"As the government and the unions have said, the requests of the truckers are totally excessive and that delegitimises their own positions. Some of their demands, such as their call for greater security, cannot be mixed with actions that collapse the country."
Marambio warned that if the problem is not solved as soon as possible, the impact on the sector will be significant.
"[On Tuesday] we officially inaugurated the 2022/23 export season, and we did so with an optimistic outlook, after the difficult previous year. However, what is happening today leaves us very concerned, and for this reason," he said.
"We call on the Government and the leaders of the carriers to work on an agreement that allows the normal operation of Chile's roads and ports to resume as soon as possible. The fruit cannot wait."