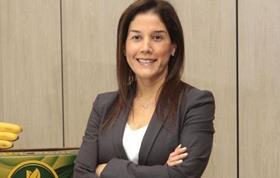 The Association of Banana Exporters of Ecuador (AEBE) has appointed Marianela Ubilla Mendoza as president of the board and Iván Wong as vice president.
Ubilla is the first woman to head the association, which brings together 70 per cent of Ecuador's banana exporting companies, in its 21-year history.
Ubilla, who is general manager of Agzulasa, is an agricultural engineer and graduate with honours from the School of Agriculture of the Humid Tropical Region.
In accordance with AEBE regulations, the new board will remain in office for the next two years, during which time Ubilla and Wong "will work together with each of the members of the Board of Directors to strengthen the banana export sector and the entire fruit production chain in Ecuador".