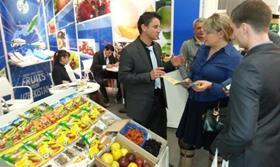 Uzbekistan is poised to export more of its fresh produce to Europe after exporters from the country reportedly signed trade deals worth more than US$3m at the recent Fruit Logistica trade fair in Berlin.
With the backing of a special UN development programme, which is working to improve competitiveness and capacity in the country's horticultural sector, a number of Uzbek companies were able to present their fresh produce to international buyers at the show, introducing products including melons, pomegranates, apples and dried fruit and vegetables.
The country's government recently announced the start of a five-year project aimed at reducing the amount of land used to grow cotton and turning it over to production of fruit, vegetables and potatoes.
The scheme also allows for the building of more than 2,000 coldstorage facilities in Uzbekistan, offering potential capacity for up to 1.3m tonnes of fresh produce – a figure which officials say could eventually increase to 2m tonnes.
"Our companies not only demonstrated Uzbekistan's potential in agricultural sector and showcased their main achievements in this area, but also benefited from the opportunity to establish new contacts and gain valuable knowledge on the demand of the European market for fruits and vegetables," said Akmalhon Olimhonov, deputy director of Uztadbirkoreksport, one of the export companies exhibiting at the show.
Representatives from two other companies, Yaypan Agro Export and Livadia-Bukhara, said that meetings held during the exhibition had provided a good platform to learn more about new methods of processing, storing, packaging and branding fresh fruit and vegetable, information that will be used to expand the country's production and exports further.
According to UN officials involved in the project, encouraging small businesses in Uzbekistan to export their products will help expand domestic production, creating new jobs and improving the wellbeing of people in the country, particularly in rural areas.
Later this month, the inaugural meeting of a new Uzbek-German Business Council – apparently set up at the invitation of German companies impressed with Uzbekistan's potential during the recent International Green Week event – will take place, also in Berlin.