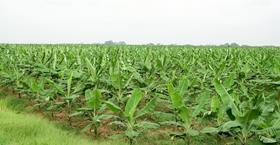 Unibán's banana exports grew 18 per cent last year to 44m (20kg) boxes. Plantain exports for the year totalled 2.9m boxes (25kg), an increase of 13.6 per cent on 2019.
The Colombian group's consolidated operating income for 2020 was US$2.2bn, up 18 per cent on the previous year. It made an operating profit of US$73.6m on a net income of US$22.8bn.
The company said the improved results were mainly due to the rise in exported volume, a favourable exchange rate and improved productivity of its banana-producing subsidiaries.
Presenting the results, Unibán's president Juan Luis Cardona Sierra highlighted the continuity of the business and the social and environmental work that it carried throughout the Covid-19 crisis.
"Currently, we generate more than 6,244 direct and indirect jobs, including our subsidiaries such as Agrícola Sara Palma, Agrícola Uberaba and Polybán," he said.
"Last year, through our Foundation, we invested around US$10.5m in improving the quality of life of more than 42,000 people, including banana workers, plantain producers and their families."