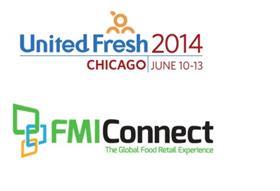 The United Fresh Produce Association (United Fresh) and the Food Marketing Institute (FMI) have announced a three-year agreement to co-locate the organisations' respective trade shows.
The first co-located events – United Fresh 2014 and FMI Connect, the Global Food Retail Experience – will take place on 10-13 June in Chicago, the US.
"Our partnership with United Fresh brings a vine-ripe vibrancy and fresh-picked energy to FMI Connect's focus on the total store experience," said Leslie G. Sarasin, FMI's president and CEO, in a press release.
"Forward-looking research affirms what we are seeing at store level – food retail customers are seeking to increase their knowledge and use of fresh products, making the produce sections critical points of differentiation among food retailers."
Ron Midyett, United Fresh chairman and president and CEO of Apio, said that United's board of directors see the long-term partnership as a great opportunity to build a top-to-top management focus for produce suppliers and their customers.
"Together, we can bring fresh food solutions and innovations to our customers that can significantly grow the total business," he explained.