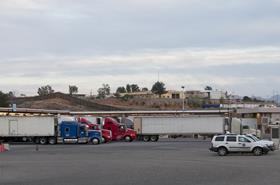 The US Department of Agriculture's Animaland Plant Health Inspection Service (Aphis) announced this week that it is implementing itsFederally Recognised State Managed Phytosanitary (FRSMP) programme.
The system, which came into effect on 1 October, establishes a process to federallyrecognise certain state-managed plant pest programmes, aligning plant healthprotection actions taken against certain plant pests when they are found ina consignment of goods imported into the US or in a shipment that is movingfrom one state to another.
Aphis claims that the move will enable it to better support and strengthen state-managed phytosanitary programmes.
"By better harmonising our import and interstate requirements, we strengthen our abilityto advocate for safe, fair and reciprocal treatment of US exports by our tradingpartners," said Osama El-Lissy, deputy administrator of Aphis's Plant Protection andQuarantine (PPQ) programme.
"The programme also gives us the opportunity to remove entryrequirements for pests that the USDA and the states no longer consider a risk, and we havealready eliminated those requirements for 74 such pests. Importers will benefit from thiselimination of unnecessary import requirements."
For a plant pest to be considered in the FRSMP (pronounced "free-stamp") programme, itmust either be one that is not currently regulated by Aphis or one that Aphis isconsidering to no longer regulate under a federal programme, and it must be of limiteddistribution within the US.
If a pest is regulated under the FRSMP programmeand it is detected in a shipment arriving at a US port of entry, a US Customs andBorder Protection Agriculture Specialist or Aphis Plant Protection and QuarantineOfficer may impose some control action in reference to that pest: for example, issue anEmergency Action Notification (EAN) to the importer ordering thatphytosanitary mitigation actions be taken.
Such control actions depend on the specificFRSMP requirements related to the pest and may include mitigation treatment (forexample, fumigation), possible re-direction to a non-FRSMP State, re-exportation, ordestruction of the shipment as a last resort. Aphis will impose the least restrictive actionit considers appropriate. The EAN would also include a link to the FRSMP programme website, where the importer can find detailed information about the likely requiredmitigations for FRSMP pests.