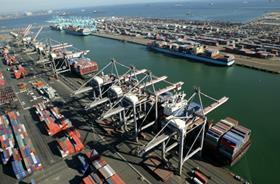 Work to reduce the billion-dollar backlog of cargo at US West Coast ports got underway this weekend following the tentative labour agreement reached by port operators and dockworkers union on Friday.
The deal comes after nine months of disruption at 29 Pacific ports which between them handle around a quarter of US maritime trade. No details have been released of the new five-year labour contract, which is still subject to ratification by both parties.
Gene Seroka, executive director of the Port of Los Angeles said it would take around three months "to return to a sense of normalcy". Other industry analysts told the Wall Street Journal it could take anywhere from about two to six months to get the US supply chain back on track.
With dozens of ships carrying thousands of containers are currently waiting to unload off the coast of California, Chilean exporter association Asoex has called on perishable cargos to be given priority as vessels are unloaded. Fernando Sat, president of Asoex's Table Grape Committee said there were serious concerns within the industry about rising transportation costs and the quality of table grapes on the water.
'What's more, the shipping companies say the supply of vessels in the region is being restricted,' he said.
Sat noted that an announcement by reefer companies that they are to increase their rates by US$0.32 per carton, coupled with a decision to temporarily suspend container services to the port of Los Angeles were causing significant problems for exporters and would result in some companies being unable to fulfil their contractual obligations.
'All this leads to an erosion in our reputation and credibility as an industry,' he warned. 'There is a chance that some of the fruit still waiting to be shipped to the West Coast will not now be exported as the vessels are not available. Instead fruit will have to be diverted to the East Coast or to alternative markets.'
However, Sat said the forecast for the 2014/15 season remained unchanged, with an export volume of 102m-104m cartons expected. To date, some 22m cartons have been shipped, an increase of 5.5 per cent on last season.
Meanwhile, the mayors of Los Angeles and Long Beach were due to meet with representatives from the International Longshore and Warehouse Union and the Pacific Maritime Association on Monday to discuss the agreement. During the meeting, Mayors Eric Garcetti and Robert Garcia are due to announce a new agenda of collaboration and investment to build the best port complex in the world and move our economy forward.
Commenting on the recent agreement, Garcetti thanked the shippers and dockworkers for coming to the negotiating table. "I want to especially thank Labour Secretary Thomas Perez for his leadership and determination to bring the parties together and to put our economy back on track. We look forward to working with all parties and the Obama Administration to make our ports the best in the world and move our economy forward," he said.