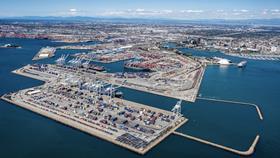 The Port of Long Beach has had its second-busiest September on record, as it and the neighbouring Port of Los Angeles look set to commence 24/7 terminal operations.
Dockworkers at the Port of Long Beach moved 748,472 cargo container units last month, down 5.7 per cent from the port's strongest September on record, achieved in 2020.
Imports decreased 8.7 per cent year-on-year to 370,230 TEUs, while exports declined 1.6 per cent to 110,787 TEUs. Empty containers moved through the port dropped 3.6 per cent to 267,456 TEUs.
The port processed 2.3m TEUs between 1 July and 30 September, a 2.9 per cent increase from the third quarter of 2020.
It has moved just over 7m TEUs during the first nine months of 2021, up 24.3 per cent from the same period in 2020. The port is on pace to move more than 9m TEUs by the end of this year, surpassing the current record of 8.1m TEUs achieved in 2020.
"We are having capacity issues due to the unprecedented number of containers waiting to move off the terminals, while warehouses have little to no room to accommodate this ongoing spike in cargo moving through our port," said Mario Cordero, executive director of the Port of Long Beach.
"This is not just about a record number of ships waiting off the coast. We are working with state, federal, local and industry partners to address issues with the entire supply chain that have finally caught up with us."
Working round the clock
The ports of Long Beach and Los Angeles last monthannounced a joint effort to expand operating hours, providing more time for trucks to pick up and return shipping containers as a measure to improve freight movement and reduce delays through the port complex.
The move to commence 24/7 terminal operations received the approval of US President Joe Biden earlier this week.
"After weeks of negotiation and working with my team and with the major union and retailers and freight movers … the Port of Los Angeles announced today that it's going to begin operating 24 hours a day, 7 days a week," Biden said during a media conference on Wednesday (13 October).
"This follows the Port of Long Beach's commitment to 24/7 that it announced just weeks ago.
"Traditionally, our ports have only been open during the week — Monday through Friday — and they're generally closed down at nights and on weekends. By staying open seven days a week, through the night and on the weekends, the Port of Los Angeles will open — over 60 extra hours a week it will be open. In total, that will almost double the number of hours that the port is open for business from earlier this year."
Port of Los Angeles executive director, Gene Seroka, said his team was working to commence round the clock operations.
"Operational details are being discussed and worked out with the supply chain stakeholders," Seroka said. "The significance of today's announcement is the commitment from industry leaders responsible for moving goods on behalf of American consumers and businesses to open up the capacity needed to deliver. It's a call to action for others to follow.
"We have a lot of work ahead. The Port of Los Angeles is called America's Port because cargo we handle reaches every corner of the country. In the days ahead, we are committed to continuing to be the convener to ensure the supply chain delivers for the American people."