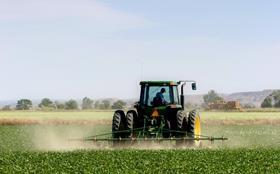 US Secretary of Agriculture, Sonny Perdue, has announced details of the Coronavirus Food Assistance Programme (CFAP) which aims to support US producers during the Coronavirus (Covid-19) pandemic.
CFAP will provide up to US$16bn in direct payments to US producers, with the limit set at US$250,000 per person or entity for all commodities combined.
On top of this, USDA's 'farmers to families' food box programme has partnered with regional and local distributors to purchase US$3bn in fresh produce, dairy, and meat to deliver to American's in need.
US producers that have experienced price decline of 5 per cent or greater will be eligible to apply for CFAP assistance from 26 May 2020, with the cut off date set for 28 August 2020.
The programme is aiming to support producers that will face additional and significant marketing costs as a result of lower demand, surplus production, and disruptions to shipping patterns.
Producers that apply will have to certify they meet the adjusted gross income limitation of US$900,000, unless a minimum 75 per cent or more of their income is derived from farming, or other agriculture practices. Producers must also be in compliance with highly erodible land and wetland conservation provisions.
According to a release from the USDA, payments made to producers of eligible specialty crops will be based on the volume of production sold between 15 January and 15 April 2020.
This is in reference to the volume of production shipped, but unpaid; and the number of acres for which harvested production did not leave the farm or mature product destroyed or not harvested during that same time period.
Specialty crops include, but are not limited to, almonds, beans, broccoli, sweet corn, lemons, iceberg lettuce, spinach, squash, strawberries and tomatoes.
US President, Donald Trump, said the Whitehouse was standing strong with the country's farmers, citing two prior trade bailouts and likening his administration's work to that of Abraham Lincoln.
Perdue added; "America's farming community is facing an unprecedented situation as our nation tackles the coronavirus. These payments will help keep farmers afloat while market demand returns as our nation reopens and recovers."
"America's farmers are resilient and will get through this challenge just like they always do with faith, hard work, and determination," said Perdue.