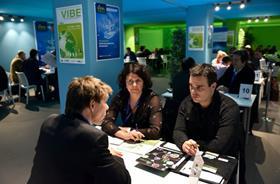 The Sival trade fair returns to Angers in France's Loire Valley on 14-16 January, uniting professionals in plant production and facilitating B2B meetings through its Vibe international business convention.
The event is co-organised by Vegepolys Valley, the French cluster dedicated to the plant sector, and the Sival Trade Fair, which will be holding its 34th edition at the Angers Exhibition Centre.
With 660 French and international exhibitors and 24,000 professional visitors in 2019, Sival's organisers state that it is the only trade show in France to present a comprehensive offer of equipment and services for specialised plant production.
With a varied programme of events, including conferences, roundtables and innovation contests, Sival focuses on internationalisation and innovation, in order to meet future challenges facing agriculture.
Vibe is set to be held on the first day of the fair, with personalised B2B meetings targeted at French companies in the plant sector wishing to develop their business internationally, as well as at foreign companies keen to establish themselves in France or build business, technological, scientific or industrial partnerships with French companies.
"Vibe is a unique opportunity to access a network of more than 1,000 potential contacts in the sector of specialised plant productions," organisers revealed. "The flexibility of the Vibe format allows participants to meet many different professionals, including suppliers, customers, partners and distributors, depending on their current projects and market needs."
According to Sival, Vibe has been responsible for more than 1,000 B2B meetings with 460 participants from 42 countries since 2015.