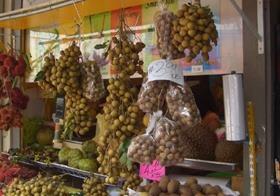 Vietnam's Fruit and Vegetable Association (Vinafruit) has predicted that this year's exports will comfortably top the US$1.47bn that fruit and vegetables earned for the country in 2014.
According to Vinafruit deputy chairman Huynh Quang Dau, the country could bring in over US$2bn in 2015 from its fruit and vegetable exports, kinhtenongthon.com.vn reported.
Indeed, during the opening quarter of the year alone, the Vietnam Ministry of Agriculture and Rural Development said that fresh produce export value had jumped 13 per cent year-on-year to U$274m, Vietnam News revealed.
The increase is attributed to demand from countries who have now opened their doors to certain Vietnamese products, such as the US for longans, lychees and dragon fruit, as well as higher demand in markets such as South Korea, Singapore and Hong Kong.
Dau said that this growth was likely to continue in the future as more markets, including Australia, New Zealand, Japan and the EU, open up to Vietnamese products.