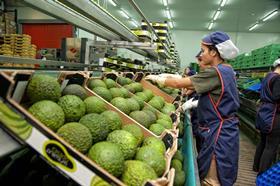 Avocado producers in southern Spain are failing to capitalise on surging demand due to a lack of water.
As the campaign in Málaga and Granada draws to a close, the industry estimates that around 55,000 tonnes of the green fruit will be harvested in 2017/18, a similar volume to last season.
Benjamín Faulí of regional growers union Asaja Málaga noted that in spite of consumption in markets like the UK growing by around 30 per cent a year, the lack of water meant that production had effectively remained stable for years.
"A number of reservoirs were built in the area some years ago but they are not connected to farms," he said, adding that completing the job would mean planted area could increase considerably.
"Málaga and Granada have the ideal soil and climate for the production of tropical fruit and if water was not an issue the region could double its production area," said José Linares, president of the Spanish Association of Tropical Fruit Producers.
With around 10,500ha of avocados, Málaga and Granada account for the bulk of Spain's annual output of 60,000-65,000 tonnes. The remainder comes mainly from the Canary Islands where production is declining.
The main Spanish producers have year-round programmes with European supermarkets, supplementing domestic production with imports –mainly from Latin America.
Customs data shows that avocado imports tripled in the five-year period from 2012 to 2016, rising from 33,948 tonnes to 88,362 tonnes. During the same period exports grew from 59,924 tonnes to 91,664 tonnes.
The lack of opportunities to expand production has led some companies to seek alternative ways of generating new revenue. Some have opted to produce new trees to export to neighbouring countries like Morocco and Portugal.