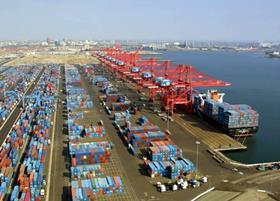 Managers from the ports of Los Angeles and Long Beach met this week to agree a collaboration strategy to improve the efficiency of cargo throughput in a bid to clear the backlogs that have built up over recent months.
In the first formal talks since the Federal Maritime Commission's decision to approve the two ports working together, the executives discussed "cargo conveyance strategies that will enhance velocity and efficiency throughout their gateway's supply chain.
"Through this working group, we will engage with our stakeholders to discuss issues and develop solutions for optimising cargo flow through our ports," said Port of Los Angeles executive director Gene Seroka. "Our ports, customers, labour force and supply chain partners are committed to taking this gateway to a new and higher level of performance, and we'll accomplish this by working together."
Jon Slangerup, CEO of the Port of Long Beach, said he was confident of finding ways "to significantly increase the velocity of goods movement and overall efficiency of our end-to-end system, thereby reinforcing our gateway as the number one choice for shipments to and from Asia."
The two sides will now agree a framework for cooperation throughout the supply chain.