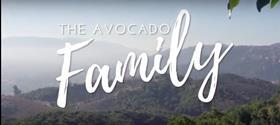 Californian avocado packer-shipper West Pak unveiled its new digital campaign this week.
The Avocado Family campaign includes a new website, a mini-documentary showcasing the beginnings of the West Pal business and a social media push to preserve the legacy of the business.
The campaign was launched as West Pak founders Randy Shoup and Galen Newhouse are about to retire and hand the company to CEO Mario Pacheco.
"Things are evolving at West Pak as Randy and I look to retire," said Newhouse. "With all of the dedicated people that we have in place and all of their years of experience in this industry, we firmly trust where they will take the business.
"West Pak will continue to be a family company, built on the foundation of strong ethics and a real sense of family, which is something that carries through from our team to our growers, distributors and customers alike."
"The Avocado Family campaign will be a part of the legacy that we leave our team, part of our family for the past 35 years, and the foundation for the values that they will carry forward," added Shoup.