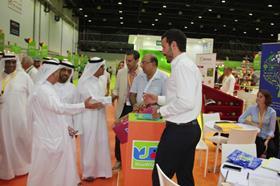 The Middle East region's two most important events in the plant and fresh produce industries return bigger than ever to the Dubai World Trade Centre in the UAE on 13-15 November.
In cooperation with the Dubai Municipality, the 8th edition of the annual International Perishables Expo Middle East (WOP Dubai) promises to be a great success, according to organisers Planetfair and Messe Essen, with 235 exhibitors expected from 34 countries, representing growth of 15 per cent compared with last year. An estimated 7,000 attendees and decision makers are expected to visit from 78 countries across the world.
This growth has demanded the addition of an extra hall, bringing the total footprint to 9,720m2. "This represents a 30 per cent increase over last year," said Tarek Sibai, Planetfair's project manager, "which reflects the significance of the event in this booming industry and secures Dubai's position in the global marketplace."
Two countries, India and Greece, have this year joined the long list of countries choosing to promote themselves with a country pavilion. Other countries include Australia, Belgium, Cyprus, Egypt, France, Italy, Kenya, Portugal, Turkey and Spain. The largest country pavilion for the third year running will be Morocco, while China will host the second biggest pavilion this year.
However, despite its rapid growth and success, the event has maintained its reputation as a place to network with like-minded industry professionals, customers and traders, according to Sibai.
"We are very proud that WOP and IPM Dubai have experienced such tremendous growth and established themselves as the most important industry exhibitions in the Middle East," he said. "We have worked closely with Dubai Municipality Fruit & Vegetables Department for eight consecutive years, which has contributed greatly to our success. Dubai Municipality and WOP Dubai share a common goal and will continue to work together to make Dubai a worldwide trading centre for fruit and vegetables."
WOP Dubai will also feature the Eurofruit Business Forum, which takes place on the show floor during the first two days of the exhibition, creating a stage for discussions and presentations. This year's speakers include Ronald Bown, president of Asoex, who will highlight the opportunities for Chilean fresh produce exports in the Middle East market. Other presentations will focus on different sources, including Saudi Arabia, Kenya and Greece.