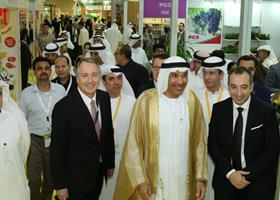 The UAE's leading fresh produce exhibition, WOP Dubai, took place on 13-15 November, recording an increase in visitors of 23 per cent compared with the previous year.
Exhibitor numbers also rose, by 15 per cent, with new countries including Greece and Argentina taking national pavilions.
"Coming here with a country pavilion was certainly the right choice as we were able to meet and connect with the many key local players in the market," said Michalis Xekarfotakis, president of Greek cooperative Nespar. "WOP helped us better understand the local market and allowed us the opportunity to expand. The Middle East's geographic location, culture, and the people's appreciation for quality fruits, make it a very important market for Greece's imports. We are definitely coming back next year."
The show also saw the launch of various new technologies on the Middle East market, including the Dubai Municipality's "green" smart cart and UK company Aircoolbox's durable, re-usable, insulated airfreight container for preserving freshness during transportation.
Keith Packer, Aircoolbox's managing director, welcomed the chance to introduce its new technology in a region known for its high temperatures.
"For perishable goods this can be an issue," he said. "In the past, a producer would export asparagus from Thailand to the UK by paying for expensive point-to-point freight. Now, with Aircoolbox, they can choose an airline snuch as Emirates and ship via Dubai, without worrying about spoilage. Our product is completely re-usable. We even built the pallet into the box to minimise wastage. We need to change the way people think about perishables."
Tarek Sibai, project manager at fair organiser Planetfair, said that such feedback demonstrated the importance and significance of both WOP Dubai and IPM Dubai to the perishables and horticulture industry.
"WOP Dubai and IPM Dubai continue to be the region's two most important events in this sector," he said, "and we are very happy to see that, year on year, we have managed to give our exhibitors and visitors a fruitful and lucrative experience."
The Eurofruit Business Forum was held on the show floor during the exhibition, providing a platform for those seeking to boost their presence in the Gulf market. This year, presentations explored the opportunities for Chilean, Kenyan, Belgian and Greek produce, as well as innovations designed to improve the freshness of produce from Karavan Management Consulting and Aircoolbox.