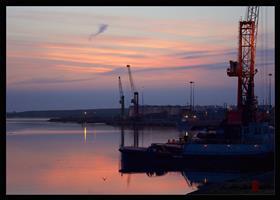 Work will begin this month on the first element of a major restructuring of an Irish port.
It is part of a €50 million investment in transforming Foynes port in Co. Limerickinto one of the biggest bulk harbours in Europe, RTE reported.
Shannon Foynes Port Company is set to spend €12m transforming the existing East Jetty area, and reclaiming a 3.45 acre section of the port to create a bigger foreshore area of activity and enable improved bulk discharge times.
The expansion of the port will add an additional 35,000 square metres of additional berthage and create more open quay storage at the port, and will enable the company to accommodate larger container cargo ships, enabling ships of 40,000 tonne capacity to berth at the new port, according to RTE.
In time, it will create capacity for the world's largest cargo vessels of 80,000 tonne capacity to travel and unload at Foynes, making it one of the few ports in Europe capable of handling such ships.
The expansion is part of the ambitious Masterplan Vision 2041, which is aimed at transforming the economic potential of the Shannon Estuary, which is the only natural deep water channel in Ireland.
The Shannon Foynes Port company already handles over €6bn worth of trade a year through its six ports along the estuary.