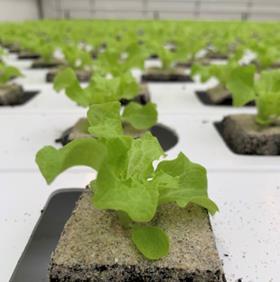 A race to grow lettuce using artificial intelligence (AI) in fully automated greenhouses is reaching its final stages in the Netherlands.
Five teams from around the world are competing in the final two rounds of Wageningen University & Research (WUR)'s Autonomous Greenhouse Challenge to find out whether AI can be used to commercially produce crops.
The teams' lettuces have been planted in WUR's experimental greenhouses in Bleiswijk and their progress can be monitored live via WUR's online dashboard, the university announced last week (2 February).
The goal is to grow good quality lettuces remotely, without human interference and using minimal energy, WUR said.
"Five international teams located around the world will produce a lettuce crop using a fully autonomous algorithm during two growing cycles. With the lowest possible input of resources such as energy and CO2 and the production of many good quality heads of lettuce, they will optimise the net profit. Each team has a 96 m2 compartment at its disposal in the high-tech greenhouses of Wageningen University & Research in Bleiswijk," WUR said in a press release.
The teams' algorithms are uploaded onto a virtual machine on a protected WUR server. Data from the greenhouse is received via a digital interface from LetsGrow and Azure Cloud, WUR explained.
At the same time, the algorithms autonomously send setpoints back to the process computer, which ultimately controls conditions in the experimental greenhouse.
In the first cultivation cycle the algorithm and procedure are tested, in the second crop cycle the results are calculated. The team with the highest net profit wins the competition.
"We expect that food production in greenhouse horticulture can be further improved by adding more artificial intelligence to the agricultural industry," said Silke Hemming, who leads the scientific research team, Greenhouse Technology, at WUR, which launched the challenge.
"We make connections with international partners through this unique challenge so that we can take major steps. Dutch growers - who are probably the most experienced worldwide - will also benefit from the results of the challenge. They will get more knowledge and may eventually discover algorithms to contribute to better decisions in the future."
The five competing teams are: Team Crop Vision and Automation (CVA) from Korea; Team digital_cucumber from Russia; Team MondayLettuce, also from Korea; Team VeggieMight with lettuce growers from the Netherlands and Ukraine; and Team Koala from the US.
Data from the experiment will be made public once the winner is announced, WUR said.