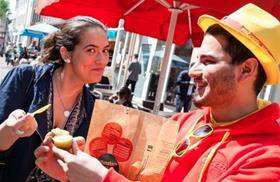 SunGold, the branded kiwifruit sold exclusively under licence by New Zealand-based marketer Zespri, has been named as fruit and vegetable product of the year by Lebensmittel Praxis, one of Germany's most important grocery trade publications.
The award, which is based on a broad survey of consumers living in Germany aged between 18 and 65, had apparently only been won previously by vegetable products.
"We are really happy about this award, because it shows that we can inspire those who consume are products," commented Andreas Borgers, the company's marketing manager for Germany.
"Our goal for 2016 is to give more people the opportunity to try our Zespri SunGold, because taste and quality speak for themselves. Naturally that also means substantial potential sales for our trade partners."
Now marketed worldwide as SunGold, the variety G3 has been introduced over the past few years in Zespri's main production areas in New Zealand, Italy, France and Portugal as a replacement for Hort16A, which was found to be highly susceptible to the bacterial vine disease Psa.
With production of the new variety now above where it peaked for Hort16A, marketing of this year's European crop has been stepped up, based on a Europe-wide strategic plan overseen by Zespri's Belgium-based European headquarters.
This is especially true in Germany, where a total of 65 promoters gave away around 165,000 individual SunGold kiwifruits to people in Düsseldorf, Hamburg and Berlin during special tasting events in May, June and July respectively.
These tastings were accompanied by wide-reaching PR and advertising campaigns, the latter featuring billboards, radio and television spots, collaborations with print and online media, social media promotions and other tactics described intriguingly by the company as 'guerilla activities'.
A national roadshow, meanwhile, saw 15 Zespri-branded vehicles visit participating markets.