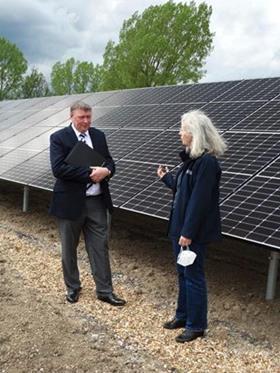 The Eastern AgriTech Innovation Hub, a specialist Soham-based crop and food waste research centre, has completed a £1.25 million upgrade of its facilities, including investment in growing facilities, green technology and power production.
The investment, 50 per cent of which is from the Cambridgeshire and Peterborough Combined Authority Business Board, includes new polytunnels, a glasshouse, heat pump, sustainable water-use facilities and a 33KW solar farm installed on the site.
The Hub promotes the reduction of unsustainable crop and food waste, as well as reuse of this waste into more useful and valuable products. At the facility, run by the crop research organisation NIAB, start-up small or medium-sized enterprises are supported as they find solutions and research this process, also known as waste valorisation, with the aim of eventually upscaling their businesses.
NIAB's Dr Lydia Smith, who manages the Eastern AgriTech Innovation Hub, said: "The investment in green technology, as well as showcasing NIAB's actions to reduce our carbon emissions, was essential to reduce cost so our SME licensees can achieve a sustainable economic return."
The site has now doubled in size since it opened in 2015, with access to the extra land donated by fresh produce supplier G's Growers. The new area houses the solar farm, which generates electricity and lighting for the site, with any unused power fed back into the National Grid.
Two new polytunnels and a glasshouse will host crop trials for both NIAB and the SMEs that use the site. The largest polytunnel is heated and cooled by an air source heat pump. This is all monitored from the site's main building, and shows the carbon-saving outcomes. Other facilities and organisations who wish to follow the Hub's lead are welcome to book a visit for a demonstration.
The green technology investments, allied to the site's mission to reduce waste, will assist the Hub as it aims to hit the NFU's net-zero carbon goal for agriculture by 2040.
Half of the site upgrade has been funded by a grant from the Cambridgeshire and Peterborough Combined Authority Business Board. The remaining 50 per cent was match-funded by NIAB and other sources.
You can see a video tour of the new facilities below.