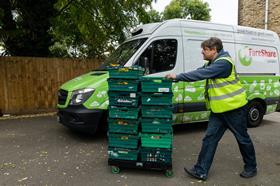 The government is awarding £4million to four food redistribution organisations following successful bids to help tackle food waste.
Fareshare, Company Shop Group, The Felix Project and Food Works Sheffield will become the first organisations to receive cash from the £15m fund launched in January by Defra secretary Michael Gove as part of his Resources and Waste Strategy.
The projects will enable food redistributors to take on more surplus food from manufacturers and retailers and stop it going to waste.
The applicants had to put forward their proposals for selection, with solutions including developing new supply routes from growers and local distributors, funding new lines and additional staff to increase capacity for repackaging and labelling.
Jo Hercberg, founder of Food Works Sheffield, said: "At Food Works Sheffield we believe in building a fairer and more sustainable food system. A big part of this is reducing food waste so being awarded some of the Food Waste Fund will really help us achieve this goal in 2019. As a relatively small and new project we're delighted to have been considered alongside the large national organisations."
Justin Byam Shaw, founder of The Felix Project, added: "Now, with the government behind us, The Felix Project can help lead the way in getting this mountain of great, surplus food to those who really need it."
The funding comes after the government's new Food Surplus and Waste Champion, Ben Elliot, called for food industry to cut their wastage in half by 2030, ahead of its "Step up to the Plate" symposium.
The scheme is part of the Resources and Waste Strategy, which sets out how the government will introduce annual reporting of food surplus and waste by food businesses.
The government says if progress is insufficient it will consider introducing mandatory targets for waste prevention.
Environment minister Thérèse Coffey said: "Food waste is unnecessary and morally unforgivable. We must end it, and our £15 million fund is a true game-changer in making that happen.
"I am thrilled that this first round of funding will allow these terrific projects to redistribute even more perfectly good food, making sure it ends up where it belongs - on people's plates and stomachs."