Veg box supplier becomes the first retailer to introduce eco labels on its entire fresh produce range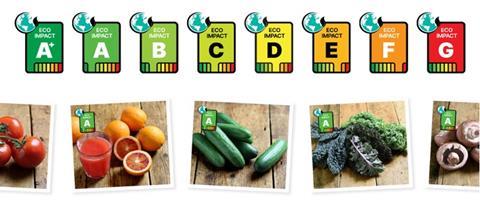 Abel & Cole is claiming a UK first by becoming the first retailer to introduce eco labelling across its entire fruit and veg range.
The box scheme specialist has begun using Foundation Earth eco-impact labelling, with products scored on impacts such as CO2 emissions and water pollution.
Foundation Earth is an independent non-profit organisation that brings together scientists and leading industry figures, and aims to unite the food industry behind a single eco-labelling system by working with Life Cycle Assessment experts to gather data and map supply chains.
Foundation Earth has already successfully piloted its traffic light-style system of labels.
Abel & Cole's sustainable sourcing manager Ed Ayton said: "We know it can be difficult to tell how sustainable something actually is. Often, that kind of information just isn't shown on the packaging, so customers are left making decisions without all the facts.
"If biodiversity impact was on ingredient lists, every pound would be a vote. Eco-labels like Foundation Earth's present those facts at a glance, giving customers the knowledge they need to enjoy a more sustainable shop."
Abel & Cole submitted the data for 87 fruit and vegetable lines, and has become the first retailer to commit an entire range of products to carry the Foundation Earth eco label.
What is a Life Cycle Assessment?
The company explains that to get an accurate score, the whole supply chain from farm to front door is put under the microscope. It worked with its farmers and sustainability experts at Mondra to complete a Life Cycle Assessment (LCA), measuring data across four major impacts - water pollution, water usage, biodiversity loss and carbon emissions.
The LCA measures the environmental impact of all stages in a product's lifetime, from sourcing to manufacturing to retail. There are many different impacts that can be measured, from the water pollution caused by processing to the CO2 emissions from recycling, and LCAs offer a lot of insight into a product's impact, according to Abel & Cole. However, there is no widely accepted standard for exactly which impacts are chosen for each LCA.
In 2018, a team at Oxford University sought to resolve this with the publication of a four-year project that had brought together thousands of studies from over 40,000 farms around the world. By normalising the measurements of carbon and water, the team were able to make a fair comparison of the impacts of 200 different foods. Seeing the study's potential for more sustainable food production, data experts at Mondra worked out how to apply this research to whole supply chains.
What impacts are being measured?
There are many different types of impact that a product can have, such as toxicity to humans, or ozone depletion. For Abel & Cole's work with Mondra, grades are calculated as follows:
1. Map supply chains
The first step is to map out every process that goes into making a product, across the following five stages: Farming - Transport - Processing - Packaging - Retail.
2. Gather data
Information gathered directly from its suppliers is called 'primary data'. Primary data is crucial to building an accurate picture of their impact.
3. Fill the gaps
When primary data can't be sourced directly from suppliers, Mondra draws on information from other areas. 'Secondary data' can be obtained from other pre-existing research, or a proxy model can be built to estimate the results.
4. Calculate impact
By rating the performance of farmers against the data of Oxford University's HESTIA database, and factoring in the impact of transportation, processing and packaging, a final score from A+ to G can be produced for the four different impacts. This is then reworked into a single grade, which can be easily displayed on the packaging or website as an eco label.
In order to reliably condense the impact grades into a single score and encourage action where it's needed most, each stage of the supply chain and type of impact is weighted differently in the final score. For example, farming contributes more to the final score than any other stage, given that is where most of a product's impact happens.
What's Next?
Abel & Cole says it wants to know how effective eco labelling is for encouraging shoppers to eat more sustainably, and so it has teamed up with Oxford University to look at the impact on its shoppers' choices. It will be working with the same team that introduced the nutritional traffic light system to food products.
"As well as influencing customer behaviour, eco labelling is also an important tool for helping brands make their products more sustainable," the company added. "By mapping supply chains and detailing the impact of each process involved, a business can see where the most effective improvements can be made. For example, our work with Mondra highlighted the impact of the packaging used to transport items. We'll be working closely with our suppliers to increase the number of reusable containers used in our supply chain, to combat this impact."