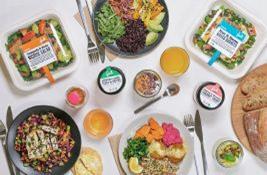 Box scheme specialist Abel & Cole has launched a new delivery service to offer workplaces 100 per cent organic food and drink, with a focus on sustainability.
Fed by Abel & Cole is described as having been designed to 'help workplace teams get together over office-friendly food and drink that's 100 per cent organic, meaning it's kinder to the planet and a more sustainable choice'.
Starting with deliveries within central and east London, Fed's range centres on a menu of convenient, chef-prepared lunch bowls and breakfast pots, designed for company get-togethers and client meetings, featuring a combination of popular ingredients and current food trends.
The bowls are complemented by everyday office staples including seasonal fruit, single-origin coffee, milk from grass-fed cows, low-GI snacks and a bar selection with craft beers, Champagne, sulphite-free wines and low-sugar prosecco.
To help reduce carbon emissions, Fed's food and drink is fully organic, deliveries are made via electric bikes, and its packaging has been chosen to minimise environmental impact.
"Good things happen when teams get together to eat - like better understanding, stronger relationships and a morale boost," said Fed's chief operating officer Chris Gort. "At Fed, we've handcrafted a range of food and drink that's designed to help teams bond throughout the working week, and with our dedication to sustainability we're the natural choice for conscious companies who know that their teams deserve something better when it comes to workplace food."