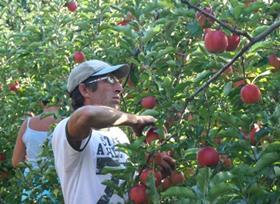 One of Britain's largest topfruit producers, AC Goatham, has hit out at the new points-based immigration policy, recently outlined by Home Office secretary Priti Patel.
In an open letter from the AC Goatham board, the company expressed its "extreme disappointment" and "disbelief" at the latest proposals, which will see all work visas requiring a job paying at least £25,600 in order to qualify for work in the UK.
They warned the new immigration system could see millions of apples left unpicked, leading to a potential food "crisis" for Britain.
Several other sectors which rely on so-called low skilled labour, from hospitality to care work, have warned the move could severely damage their industries.
AC Goatham's letter pulled no punches in criticising a policy which it said could ultimately lead to the "demise of a successful fresh food production industry".
"If it is implemented, it will affect the future, successful operation of our business and risk the jobs and livelihoods of hundreds of our employees and also those in the businesses that support and supply ours," the letter states.
"And don't forget here at Goatham's we grow 1 in 3 of the British apples and pears eaten in the UK each year, so our inability to source a seasonal workforce will cause a massive disruption to the future supply of British fresh produce and food across the UK".
The letter was shared one day before Minette Batters urged the government to raise the current Seasonal Agricultural Workers Scheme from 10,000 to the required 70,000 at the NFU Conference, in order to ensure access to labour for British growers.
Last week, Nationwide Produce managing director Tim O'Malley penned similar concerns, accusing the government of "hypocrisy" for its decision to implement such a high threshold on "unskilled" labour.
AC Goatham also revealed that it only gets a "handful of applications" from British people for seasonal work, with almost 100 per cent of its workforce coming from the EU.
"Put simply without continued access to seasonal harvest workers we have no business and our business is one that significantly contributes to the local and national economy with a current annual GVA of £28.5m," the letter continues.
"If we are to put the great back in Great Britain, this Government has to listen to us here at Goatham's before it is too late and a food 'crisis' is caused where British crops such as 400 million apples and pears we grow each year will be left unpicked."