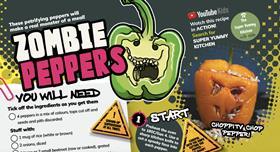 The Eat Them to Defeat Them campaign has unveiled a kids' activity book to further engage children with vegetables.
Veg Power and ITV have brought together Channel 4 and Sky, and partnered with Change4Life to create an activity book full of veg-themed puzzles, fun, games and recipes for kids and their families to enjoy. The book has been funded by Public Health England, Asda, Co-op, Sainsbury's and Chartwells, with advertising donated by ITV, Channel 4 and Sky.
Some 250,000 copies will be distributed for free via Asda and Sainsbury's stores, Co-op community champions and through community projects, food banks and schools.
The move is the latest from the Eat Them to Defeat Them initiative, which ran its second campaign in spring 2020. Created by Veg Power and ITV, with the support of Channel 4, Sky and 10 retail and food brands, the TV campaign reached over 46 million people and the schools programme reached 425,000 primary school age kids, with 76 per cent saying it made veg more fun.
There will be a downloadable version of the puzzles and recipes at EatThemToDefeatThem.com, YouTube videos of the recipes by The Super Yummy Kitchen and a supporting TV and social media campaign.
Alison Tedstone, chief nutritionist at Public Health England, said: "We are delighted to be working with Veg Power on this initiative. Encouraging healthy eating habits is an important part of giving our kids the best start in life. We know that motivating kids to eat their greens can be a challenge which is why this campaign is so important, helping to make healthier choices easier for families."
Dan Parker, chief executive at Veg Power, added: "Now more than ever we need to eat more veg – it's key to improving the nation's health and to supporting our fresh produce industry. This activity book has been created by a unique and powerful alliance, bringing together government, business, broadcasters and the third sector to collaborate on this essential issue."
Enjoyed this free article from Fresh Produce Journal and its team of editors? Don't miss out on even more in-depth analysis, plus all the latest news from the fresh produce business. Subscribe now to theFresh Produce Journal.