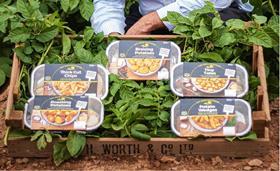 Spalding-based potatogrower and packer AH Worth has launched a new collection of potato-based dishes for the farm shop and deli trade under the new brand Worth Family Farms.
The convenience range features Roasting Potatoes, Thick Cut Chips, Braising Potatoes, 'Tiny Tates' and Potato Wedges.
"We wanted to create a brand which delivered a consistent, great taste, showcasing our family and farming heritage for the more discerning customer," said the company's fourth-generation CEO Duncan Worth.
"Consistency in flavour is our top priority and our team of experts works with our UK potato growers to find the best material for certain times of the year. We want to guarantee our products will deliver the same great taste, 12 months of the year."
Worth Family Farms will launch at farm shops from September in partnership with specialist distributors.
AH Worth is a national produce supplier, specialising in wholehead and prepared potatoes, serving the foodservice and retail industry.
Two years ago, the company rebranded from QV Foods to AH Worth to bring the company back to its family roots.