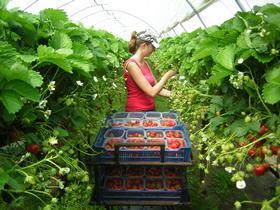 AHDB has decreased its levy rate for horticulture businesses by 10 per cent, to help growers cope with the financial pressures they face.
For the majority of horticulture growers, this takes their levy down from 0.5 per cent to 0.45 per cent, with the change coming into effect April 1 2020.
Mushroom growers will see their levy reduced from eight pence per litre for agaricus spawn, and two to 1.8 pence per litre for non-agaricus spawn.
AHDB stated its work for horticulture is becoming more focused, while acknowledging the financial pressure and the scale of the levy is a big bill for a lot of growers.
AHDB Horticulture sector board chairHayley Campbell-Gibbons said: "At a time when the industry faces such enormous pressure and change, it's vital that AHDB's horticulture work is more focused, relevant and responsive to growers' needs than ever before.
"I am confident that this reduced levy rate is achievable without undue disruption. It demonstrates that AHDB is being responsive to the calls for delivering efficiency and better value for money".
The levy rates have been approved by UK ministers following a consultation period, with the organisation wanting to make it simpler and more proportionate for growers.
Last year a petition was started by several growers against the mandatory payment of the levy, who were concerned it did not provide value for money.
Campbell-Gibbons said: "The UK horticulture sector remains a fiercely competitive area. I can assure you that our long-term priorities at AHDB remain totackle the disease, pest and weed challenges growers' facethrough applied research, toseek emergency chemical approvals and to promote workforce efficiency and innovation uptake at a time of labour shortage."
AHDB Horticulture is the largest independent investor of applied research and development having delivered over £30 million of funding between 2014 and 2019. The estimated financial impact of this levy rate reduction is approximately £800,000. This reduction will be met through:
a re-prioritisation of activity – ensuring essential work is unaffected, and AHDB remains responsive to any emerging crises
an accelerated use of horticulture reserves; and
a review of costs.