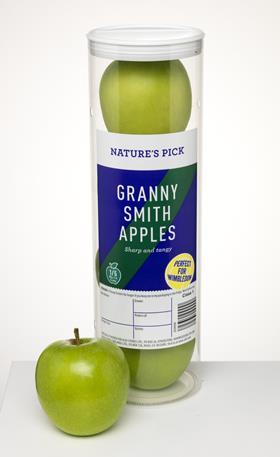 Tennis ball tubes of Granny Smith apples and tennis-themed strawberry punnets hit shelves at Aldi today to celebrate the start of Wimbledon next week.
The discounter began sales of the limited edition four-packs of apples in its Nature's Pick range at stores across the UK on Thursday 29 June, retailing at 99p a tube.
The Granny Smith promotion, which will last for just one week, coincides with the launch of tennis-themed punnets of British strawberries. The Wimbledon-inspired packaging will be available while stocks last.
Commenting on the Granny Smith tubes, Aldi wrote: "Like some of this year's tennis pros, these sharp and tangy apples won't make it to week two of Wimbledon. When they're gone, they're gone."