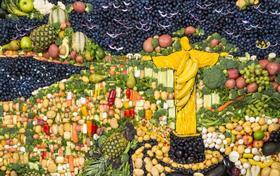 Aldi has created the Rio skyline out of fresh produce to promote its tie-up with the Team GB athletes in the run up to the Olympics.
The picture, created by artist Prudence Staite, used over 47kg of produce including eight bananas, eight yellow peppers, two bunches of red grapes, two plums and 200 grams of blueberries making the image of Christ the Redeemer alone.
It took over 60 hours to create and in total uses over 30 different types of fruits and vegetables.
Aldi offers every Team GB athlete £25 of vouchers a month to spend in-store in the run up to the games, and said that so far over 660 athletes have spent over £100,000.
This equates to 148,897 bunches of bananas, 225,000 carrots, 375,000 apples, 128,165 packets of baby plum tomatoes, and 289,286 cucumbers, Aldi said.
"At Aldi, we're incredibly proud to be the first supermarket to partner with Team GB," said Aldi joint managing director, Tony Baines. "Our mission has always been to provide our customers with the best quality products at everyday low prices – we're delighted with how many of the nation's athletes have signed up to this initiative."
Staite said: "This was a really challenging brief to recreate such an iconic skyline that incorporates so many different elements – from the more intricate detail of the buildings to giving variation to the vast blue ocean. Thankfully, Aldi has a wealth of fresh fruit and vegetables meaning we could have a lot of fun creating the various colours and shades required."
Baines added: "Over the last six months, athletes including Genevieve Randall (Synchronised Swimming), Ellie Piggott (Lightweight Rower) and James Rodwell (Rugby 7s) have been spotted in stores all over the country, picking up a variety of fresh produce."
Aldi is also supporting Team GB's schools' education programme – Get Set to Eat Fresh, which champions healthy eating in 25,000 schools nationwide.
The discounter's Homegrown Heroes initiative also allows shoppers to find out what food some of their favourite athletes love to eat and leave messages of support for their favourite 'Homegrown Hero' via the dedicated website www.teamgb.com/homegrownheroes.