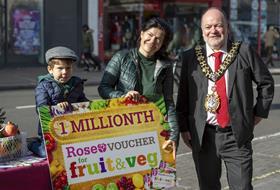 Alexandra Rose Charity is celebrating one million Rose Vouchers being used to buy fresh fruit and veg by low-income families across the UK since the voucher project began back in 2014.
Families in the project's seven target areas receive £3 of Rose Vouchers for each child, every week, or £6 if the child is under a year old.
Each Rose Voucher is worth £1, meaning an incredible £1m has been spent on fresh produce at local markets and independent retailers in seven project areas across Britain.
The charity's CEO Jonathan Pauling said: 'All parents want to be able to give their children the healthiest possible start, and that includes providing healthy, nutritious meals with lots of fruit and veg.
"That can be a challenge when it's much cheaper and easier to eat unhealthy food. We're thrilled that we've been able to help over 5,500 families do this and get access to over £1,000,000 worth of fresh fruit and veg while also supporting local, healthy food markets like North End Road [in west London].'
The one millionth Rose Voucher was spent by Iva and her son, at Lu's Fresh Fruit stall at North End Road Market in Hammersmith and Fulham in September.
The Rose Vouchers project currently runs in seven areas: four London Boroughs (Hackney, Hammersmith and Fulham, Lambeth and Southwark) as well as Liverpool, Barnsley and Glasgow, with over 50 independent market traders and retailers signed up to accept Rose Vouchers.
Terry Bailey, market trader at Lu's Fresh Fruit said: "We've been on the project since it started here, nearly five years ago now. I think it's a terrific idea; we're really happy with all of it. It's really made a difference to us, some days we can take around 200 Rose Vouchers."
The one millionth Rose Voucher was honoured by Hammersmith and Fulham Mayor, Cllr PJ Murphy, at North End Road Market on 13 October.
He presented Iva and her son with a 'golden' Rose Voucher at the Bailey's Stall, saying: "We want every family in Hammersmith and Fulham to have access to local fresh fruit and veg. It's been fantastic handing out the one millionth Rose Voucher at North End Road, and I invite all families who need an extra bit of help to sign up to the scheme at their closest children's centre."
East Street Market celebration
The charity also recently celebrated market traders' contribution to its voucher project with an event atEast Street Market in Southwark on 28 September.
The Alexandra Rose Charity team, alongside 1st Place Children & Parents' Centre and the East Street Market traders, spoke to families, promoted the project, and offered free fruit and veg to children.
A highlight was a cooking demonstration by Annika from local business Nika's Kitchen, offering a range of plant-based food for families to try.
Alexandra Rose Charity has been running the Rose Vouchers for Fruit & Veg Project in Southwark since 2018. It initially launched at East Street Market and has since expanded to include market traders in Peckham. There are now 12 independent traders supporting the project in the borough.