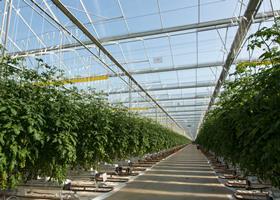 Leading UK tomato grower APS Group has made a series of eye-catching investments in production facilities over the past year.
APS Group, which is owned by the Pearson family, grows around 40 per cent of UK-produced tomatoes, and the business has been investing in a number of areas as it looks to capitalise on what is a food-insecure category for Britain.
Emma Burke, group technical manager at the company, told this week's Global Tomato Congress in Rotterdam that the business has invested in a new site in Selby, North Yorkshire, which expands its production area by 25 per cent.
The site will also be growing peppers, aubergines and cucumbers, and features new CHP units for energy efficiency. "Sustainability has been very important to APS over the last 10 years, and we were one of the first people to put CHP into a commercial glasshouse area," she explained.
"We have also invested in anaerobic digestion, which is something we've been doing for 10 years now, and it's been a really exciting project, especially thinking about the really valuable by-products we get."
APS has been developing its own packaging from the AD plant, whereby the company takes cellulose at different points in the process and manufactures fully recyclable punnets and film from it. "It's a way off being fully mainstream but I think in the next five years we'll be looking to our tomato plants to actually manufacture our packaging," Burke added.
In a further new development, Burke revealed that over the past two years APS has built a 50 acre-equivalent vertical farm that has gone live in the last month.
"We are working with two expert partners in our vertical farm business, and we are growing babyleaf – it's high-care and ready to eat. Vertical farming can use less land and less water and feed our ever-growing population. I definitely think it can become a significant part of the future," she added.
Further details of APS' vertical farming project are expected to be released shortly.