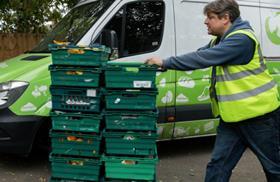 Asda has announced that it has donated five million meals through its partnership with FareShare.
The retailer's back-of-store donation scheme supports local charities and community organisations across the country.
Over the past three years the supermarket has donated quality, in-date produce, often including bread, bakery items, fruit, vegetables and eggs. These products can no longer be sold in store due to shorter sell-by dates.
With help from Asda colleagues and FareShare, charities and community groups can receive up to five collections a week from Asda supermarkets, superstores and supercentres across the country.
The scheme is part of the supermarket's Fight Hunger Create Change programme and has been rolled out to all of its stores and depots able to donate surplus food. This rollout saw the supermarket donate three million meals in 2020 alone.
Karen Todd, senior manager for Asda's Zero Waste, said:"The amount of food donated to charity through our back-of-store donation programme has increased by 58 per cent over the past year and has helped us as a company donate over 18 million meals since the start of the partnership."
Asda has also donated £23 million across two years to FareShare and the Trussell Trust, a leading foodbank network, to help create long-term positive change to poverty in the UK.
The donation has already helped expand FareShare's food distribution network and allowed the charity to accept donations of fresh produce so they can help more people in need.
It has also enabled the Trussell Trust to fund additional services, such as debt and benefit advisors, for recipients of its emergency food parcels.
Lindsay Boswell, chief executive at FareShare, said:"We're incredibly grateful to Asda for their continued efforts in redistributing surplus food that has become available in their stores – especially during what has been such a tough time for so many.
"The coronavirus pandemic has put a massive strain on a lot of charities and community organisations, because they are facing increased demand as more people struggle to make ends meet.
"Being able to source good to eat, free surplus food from retailers through FareShare Go provides thousands of vulnerable people with much needed food that they otherwise wouldn't have access to."