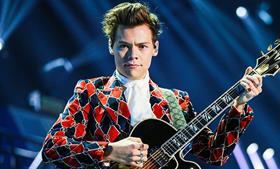 An Asda store in Manchester has banned the sale of kiwifruit to under-25s after Harry Styles was pelted with the fruit as he sang the song 'Kiwi' at the Hammersmith Apollo in London.
The supermarket will be asking for proof of ID at its Hulme Superstore near the O2 Apollo in Manchester ahead of his performance there tonight (2 November).
At his London gig on 30 October Styles slipped on the fruit, having to grab his microphone stand to avoid falling over.
An Asda spokesperson told The Mirror: "We know our customers love Harry Stylesand we feel it's our duty to protect a fellow Mancunian from any 'bad kiwis' amongst us.
'We'd hate to see a repeat of the mishap, so to avoid any slippery situations, we feel this is a necessary measure."
It is not the first time steps have been taken to avoid fruit throwing at concerts. In August festival-goers were banned from bringing pineapples to Reading and Leeds festival over fears they would chuck the fruit on stage during the Glass Animals' performance of 'Pork Soda'. The song includes the lyrics "pinapples in my head".