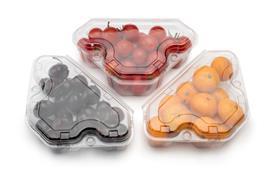 India's leading PET punnets manufacturer and exporter, AVI Global Plast, has launched its ready-to-use rPET (recycled PET) punnets containing 30 per cent post-consumer recycled content on the UK market ahead of the UK's new plastic packaging tax.
On 1 April, the UK government's proposed Plastic Packaging Tax (PPT) comes into force. This is a new tax that will apply to plastic packaging manufactured in, or imported into the UK, that does not contain at least 30 per cent recycled plastic.
Manufacturers or importers of plastic packaging, including importers of packaging which already contains goods, will need to take action to prepare for the new tax.
The rate of tax will be £200 per metric tonne of plastic packaging.
AVI told FPJ its UK product launch is intended to "comfort and ease sourcing mandates" of fresh produce businesses having to deal with the upcoming new rules.
The plastic tax is expected to impact around 20,000 UK manufacturers, users and importers that now face a looming compliance burden, the company said.
PPT is an environmental tax designed to provide a financial incentive for businesses to use recycled plastic in the manufacture of plastic packaging. The government envisages this will create greater demand for recycled plastic, stimulating increased levels of recycling of plastic waste and diverting it away from landfill or incineration.
Commenting on its UK product launch, Akhilesh Bhargava, managing director of AVI Global Plast, said: "AVI is dedicated to helping businesses gear up for new environmental regulations that incentivise the use of recycled plastic and curb the usage of precious virgin fossil-based resources.
"Our sustainability plan includes prioritising circular packaging development in sync with evolving plastic waste regulations and consumer demand for authentic sustainability actions," he added.
Last year, the company launched 100 per cent food-grade recycled PET clamshells and punnets to entirely eliminate virgin material use and optimise its partners' carbon, water and energy footprints. The rPET used in these offerings are derived from an EFSA-approved recycling process.
According to Akhilesh, AVI's rPET punnets help fruit retailers switch to better plastic with no compromise in clarity, strength and machine parameters. "Our heat-seal punnets and clamshells meet preferred packing design standards and are fully compatible with high-speed, automatic filling & sealing lines across Europe. Using our experience and technology, we enable partners to derive further savings by down-gauging their packs by up to 10 per cent without affecting performance."
The new 30 per cent rPET punnet signals AVI Global's commitment to offer timely support to the industry with customized and resource-efficient packaging solutions. Some of its features and benefits include:
· 30% recycled content verified by InterTek's Sustainable Recycled Content Programme
· Compliance with European Commission and FDA standards for food-safety and quality
· Proof of sustainability claim to address need for authentication by regulators and consumers
· Enables the use of a descriptive environmental label mentioning 30% recycled content use for consumer education
· Carbon-emission and landfill waste savings through increased recycling of discarded post-consumer PET bottles
· Improved speed-to-market with first-time right and authentic PCR based packaging
· Savings on expensive testing costs
Minor changes to the UK government's PPT legislation, announced in 2018, were included in the Autumn 2021 budget and the government isconsulting on the regulations which deal with how the tax is administered. These regulations also cover methods for weighing plastic packaging components and the requirements for maintaining, producing evidence of and calculating recycled material in plastic.
Background to PPT
· At Budget 2017, the government announced a call for evidence into using the tax system or charges to tackle single-use plastic waste and received 162,000 responses.
· At Budget 2018, a new tax on plastic packaging with less than 30% recycled plastic was announced. The government launched a consultation in February 2019 seeking input on the initial proposals for the design of the tax. A summary of responses was published in July 2019.
· At Budget 2020, the government announced key decisions on the design of the tax, and HM Revenue & Customs (HMRC) launched a consultation on the more detailed design and implementation of the tax.
· On 12 November 2020, the government published the draft primary legislation for technical consultation, alongside a summary of responses for the consultation held earlier in 2020. Feedback from the technical consultation was used to amend the primary legislation.
· Primary legislation was included in Finance Bill 2021 and received Royal Assent 10 June 2021.
· The tax will take effect from 1 April 2022.