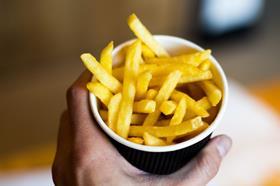 Catering potato supplier Aviko has launched a new line of fries, which it claims stay "piping hot and crunchier for longer".
The Premium Crunch Fast Food Fries, which cook in just three minutes and are aimed at the quick service market, are available in two varieties: Crunch Shoestring 7mm and Crunch 9.5mm.
Aviko's commerical director for the UK and Ireland, Mohammed Essa, said fast food outlets no longer "need to be concerned with delivering cold or soggy chips".
"We have specifically designed the Premium Crunch Fast Food Fries to support the quick service market in delivering the highest standard of chips possible," he added.
"With a thicker coating, the new fries are perfect for home delivery packaging and will arrive without any breakage or loss of heat and will also remain satisfyingly crunchy."
One of the world's largest potato processors, Aviko offers a range of chilled and frozen potato products, including hash browns, fries, mash and diced sweet potato.