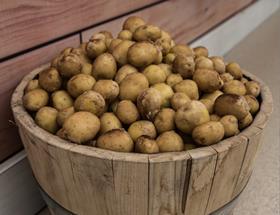 Scotland's Ayrshire Early potatoes have been granted Protected Geographical Indication status.
The new potato variety has been grown in the west of Scotland since 1859 and is one of the earliest potato crops in Scotland, harvested over an eight-week season starting in May.
The PGI status guarantees the provenance of European food and drink, giving it legal protection against imitation across the EU.
Following the listing Scotland's First Minister Nicola Sturgeon tweeted her support for the decision, writing: "Great news. I was born and brought up there so I know I'm biased, but there's no beating Ayrshire new tatties."
Culture Secretary Fiona Hyslop said: "This is great news for Ayrshire potato growers, particularly given the current uncertainty for the industry being causedby Brexit.
"Scotland has an unrivalled global reputation for quality food and drink produced from our own natural larder.
"PGI status not only helps protect the provenance of products like Scotch whisky, Stornoway black pudding and Arbroath smokies but also assures consumers at home and abroad that they can trust the product they are buying, and ensures that the right expertise, ingredients and methods of production are being used.'
The move to list Ayrshire potatoes was spearheaded by growers in Girvan. Drew Young, of Girvan Mains Farm said: "The Ayrshire Potato Growers are delighted to have achieved PGI (Protected Geographical Indication) status, to protect a product that is over 120 years old.
"It is good to be recognised the same way as so many other high quality food and drink items and we hope that it helpto secure the future of potato growing in Ayrshire by assuringcustomers they are buying a genuine article with provenance, quality and flavour."
This year, growers of Ayrshire new potatoes are reporting a high-quality yield. The potatoes, which are now available at Tesco stores in Scotland until early September, have benefitted from "ideal" planting and growing conditions this year, according to Greenvale supplier Irene Wilson.
"We are delighted by the quality of the crop," she said. "Shoppers will be tasting our potatoes at their very best this year."