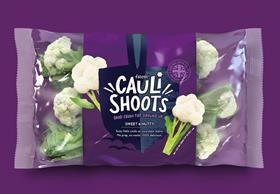 West Sussex-based vegetable supplier Barfoots has launched a new long-stemmed variety of cauliflower that it hopes will one day enjoy similar sales success to Tenderstem.
The new brassica, which isn't dissimilar to Tenderstem in appearance, has a long pale green stem crowned with a small round cauliflower floret.
As with Tenderstem, it is easy andconvenient to prepare and edible in its entirety, makingit well suited to current shopper trends, including health, scratch cooking and waste reduction.
"It eats very well and solves some of the challenges for the consumer who might not want to buy a whole cauliflower the size of a football," said Barfoots MD Julian Marks.
"We're always looking for new and innovative products that give the consumer something interesting.
"It's close enough to the original for consumers to easily recognise, and it meets a lot of consumer needs. In terms of waste, portion control, speed and ease of cooking, it really presses the right buttons."
He added that Tenderstem took a long time to gain traction but is now hugely successful, accounting for 35 per cent of the total broccoli sales at UK retailers in 2020.
Marks said he believes CauliShoots also have "tremendous potential" – not just at retail but for restaurants and foodservice as well.
CauliShoots have been developed in partnership with Syngenta under the iStem brand. The UK growing season will run from June to October and Barfoots Spain will supply November to May.
As well as being launched in the UK, the newbrassica will also be sold in Europe, starting with Scandinavia in 2022.
In the UK the product is available on Ocado priced at £2 for 250g and through selected wholesalers. It has a sweet, nutty taste and is high in fibre, B vitamins such as folate, and Vitamin C.
Barfoots said CauliShoots have been launched "at a time when interest in healthy eating and scratch cooking has rarely been stronger".
Indeed, 2020 research by Public Health England showed that 43 per cent of the UK population felt motivated to make changes to their life, with 40 per cent intending to eat more healthily and 39 intending to lose weight.
In addition, YouGov research from the start of 2021 suggested that 91 per cent of respondents intended to continue to home cook as much or more in 2021 than they did in 2020. Meanwhile, 81 per cent said they wanted to eat more healthily.
Barfoots brand and marketing manager Kim Barfoot-Brace said: "CauliShoots is taking advantage of a variety of consumer trends. Cauliflower has experienced a surge of popularity over the past five years. Its health attributes and increased shopper interest in meat-free/plant-based and flexitarian eating mean that the timing of this product is very much in tune with current consumer habits."