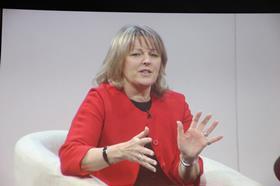 Sainsbury's Judith Batchelar and Helen Brierley of Vitacress are among a group of 14 leading businesswomen who are travelling to Tanzania on a Farm Africa project to build beehives.
The group is aiming to beat their record set on a previous trip in 2015 when they built 90 beehives in three days to support female farmers living in the remote Nou Forest area.
Led by Batchelar, who is Sainsbury's director of brand, the group will stay in the small village of Bermi in the Babati District of the Manyara Region where they aim to build 120 Langsroth beehives in three days and raise £80,000 for Farm Africa.
The hives will be used by women from the local Bermi beekeeping group to build sustainable honey farming businesses and create an incentive to protect the forest by planting fruit trees to attract more bees.
The Nou Forest is known for its biodiversity of plant, animal and insect life, but has suffered severe deforestation in recent years.
Batchelar said: "Monday 16 October is World Food Day, so it's a fitting day for us, as representatives of the British food industry, to travel to Tanzania to support the development of sustainable food businesses in one of the world's poorest countries. I'm especially pleased that we're helping local women thrive in business."
Farm Africa head of fundraising Jenni Bright said: "Tanzania loses around 370,000 hectares of forest a year – that's 1,000 football fields every day. By helping local communities make money from forest-friendly businesses like honey production, Farm Africa not only helps local communities escape poverty, we help protect the forests for generations to come."
Joyce Lali, from Erri village in Manyara, who set up a honey production business after receiving beehives built by the group in 2015, said: "I would like to thank the Big Beehive Build group for coming to Erri and giving us the beehives.
"It is something that has given real value to our lives. I send special appreciation for making us women seen. Before, we were invisible in the community. You have helped us increase the value of females in the community."