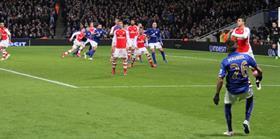 Leicester City's rise from narrowly avoiding relegation last season to defying odds of 5,000/1 and winning this season's English Premier League football title is some story.
While a number of key players and coach Claudio Ranieri have been singled out for their splendid work, the effort of the club's innovative sports science and medical team has also played its part, including - according to BBC News - with its use of beetroot shots for the squad.
Beetroot as a performance enhancer has been covered by FPJ previously, see here and here, and also here.
Although improvements related to drinking beetroot juice are believed to be relatively low, around 3.5 per cent, Leicester's players have apparently suffered the fewest injuries in the league, boast the player with the fastest sprint (Jamie Vardy), and the team has scored a number of late goals to accumulate the points needed to win a league title, attesting to its overall fitness levels.
Could this be the start of a beetroot-led revolution in the world's most popular sport? A number of British companies will no doubt be looking for opportunities that could open up.