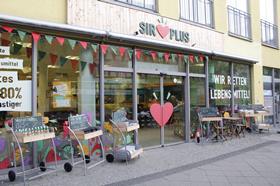 It might sound like a given but what Raphael Fellmer is asking us to do as consumers requires a drastic change in our shopping behaviour. "Trust your senses," he says. "Don't look at the date."
Alongside his friend Martin Schott, Fellmer is the determined co-founder and chief executive of Berlin food rescue chain Sirplus, and since launching the business in 2017 the former bin diver has been trying to drag food rescue – something he has long been passionate about – into the mainstream.
While there are a handful of other stores in Germany dedicated to fighting food waste, Sirplus is the only chain of its kind in the country. Almost all the food it sells is either out of date or out of spec, and has been purchased from retailers, wholesalers and the hospitality industry at knock-down prices, for resale in one of four Sirplus stores in the German capital.
Fellmer's busy determination to tackle the food waste problem is clear, and prior to setting up Sirplus, he co-founded a 19,000-strong voluntary movement called Foodsharing, which saves and redistributes food from thousands of businesses across Germany, Austria and Switzerland. "We saved a lot of food – everything that the big food banks didn't take because it was too small – but we said: 'What about all these huge quantities of surplus that the food banks don't take because it costs too much?' So we created Sirplus [a business that pays for the food it sells] to make food saving mainstream."
Having already saved 500 tonnes of surplus, out-of-date and out-of-spec food from going to waste, Sirplus has got off to an impressive start, but Fellmer is clear that the store's role in raising awareness and attracting press coverage is ultimately "far more important" than the volume of food it saves.
"We want people to be like: 'Wow, you can eat it, you can sell food that has expired but is still good to eat'," he says. "Use your senses. Does the package look good? Smell it, taste it; that's how we used to do it. Best before dates are new – they were only introduced 39 years ago in Germany."
Many of the products at Sirplus's four stores far exceed these dates, with some of the wide range of beers being sold more than a year out of date. In fresh produce, of course, the scope for this is more limited, but when the produce is put on shelf, it's very much a case of judging each piece individually, and only removing it if it's genuinely not good to eat.
The conventionally grown fresh fruit and veg sold by Sirplus comes from Berlin's wholesale market, the Berliner Großmarkt. Staff collect it from traders at the end of their working day, at around 5-6am, paying 30-50 per cent less than restaurants would since it is surplus produce that the wholesalers would not otherwise be able to sell.
There are various reasons why the fresh produce is rejected by retailers and subsequently wholesalers. Most of the time it is slightly overripe or doesn't meet specifications on shape, size or appearance. But Fellmer says that sometimes, if a retailer has been struggling to sell a certain product and a van arrives at its depot slightly later than scheduled, it might simply be looking for reasons to reject a consignment.
The conventionally grown vegetables at Sirplus are around 40 per cent cheaper than at a normal retailer, but in addition the chain stocks organic produce, which is sold at regular retail prices. This either comes direct from farmers or from German food redistributor Querfeld, which is like Waste Knot in the UK and helps to resell surplus produce to caterers, school kitchens and other foodservice customers.
Fellmer knows that his chain's low prices are a major draw for lots of customers, with money saving emerging as the second most important reason for shopping there (after sustainability) in a poll of customers. Affordability is key to making food rescue mainstream, says Feller, and it helps make ethical shopping accessible, rather than a middle-class privilege. "We're taking food rescue out of the niche and into the middle of society so that everyone can become a food saver in a convenient, easy way."
That said, he emphasises that he doesn't want buying rescued food to just be about price. "We want people who shop here to feel proud," he says. "It's an attitude change – it used to just be about getting something cheap and now it can be about saving food, doing something good, and then talking about it. We are creating a new market for this and making it mainstream."
Going forward, Fellmer has big ambitions for the business, saying he "knows" Sirplus could work all over the world, since everywhere there's food going to waste and people that want to make a difference. The company has just finished its second crowdfunding campaign, to turn the chain into a franchise, and so far 150 people have signed letters of intent to become a franchisee – mainly in Germany but also a few in other countries.
Further down the line, Fellmer wants to create a label for products that contain rescued food so that it's "not only cool to have vegan written on your food". This should have been done by the government, he says, "but we are going to do it ourselves when we have the other things in place."
Despite this ambition, finances could prove a problem unless the company keeps pulling in investment. The stores themselves are profitable, he says, and there are plans for Sirplus to launch a range of its own products made from rescued produce. These will be sold at the big retailers, as well as Sirplus – you can already find jars of preserved sweet cherries in store.
Nevertheless, the company is still a long way from breaking even due to its overheads, Fellmer admits. While this "would be nice", he insists it is more important to keep reinvesting and growing the business with the help of investors. "The clock is ticking on climate change," he says, as if by way of a reminder.
So far, the retailer has received the bulk of its funding from impact investors, with additional funding coming from crowdfunding campaigns, bank loans and a €100,000 EU Climate-KIC accelerator. While he is clearly grateful for this support, Fellmer stresses that government funding for food rescue is "ridiculously low", both in Germany and across Europe.
"The German government really needs to invest dozens of millions of euros right away to educate people and help transform the entire food sector," he says. "They should be doing things like introducing eco-taxes for retailers' waste disposal to incentive businesses to waste less; they should introduce laws to make food rescue easier."
Ultimately, however, Fellmer's message is one of solidarity and collaboration, and instead of pinning the blame on either government, retailers, producers or consumers, he stresses that the food waste crisis is everybody's fault. The solution, he says, is to take action and raise awareness.
"I've talked to more than 500 people from the press in the last two years," he says. "We're just a very small business but by spreading a message the impact we can have on society is huge – buy less, buy more often, trust your own senses, and put pressure on the food industry to change."