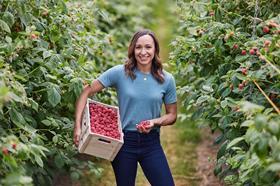 Leading UK berry grower group Berry Gardens will partner with Olympic champion Dame Jessica Ennis-Hill to promote its berries for a second year.
Its More Than Taste 2022 campaign will see Ennis-Hill encourage consumers to actively choose Berry Gardens' specific varieties, Driscoll's Maravilla raspberries, Driscoll's Victoria blackberries, Driscoll's Zara strawberries and British blueberries, as part of their healthy eating plans.
The six-figure fully-integrated campaign is the biggest marketing investment ever seen in the British fresh berry sector, according to Berry Gardens. It will include promotions, hyper-targeted digital advertising across Google and Meta, OOH advertising, in-store sampling, experiential, social and influencer activity and PR with Ennis-Hill encouraging consumers to see the company's specific varieties of British berries as inherently healthy products deserving a bigger role in their diet.
Nick Allen, chief executive officer at Berry Gardens said: "Last year's campaign had a clear effect both on sales and on how retailers view our category. We've been shortlisted for or won almost a dozen marketing awards for it and are delighted to be able to extend the campaign for the 2022 season.'
Rob Harrison, commercial director at Berry Gardens added: "We are already affecting the category both in terms of recruits into it and in terms of demographic shape – in Driscoll's Victoria sweet blackberries alone we saw a significant increase in under-35s, drawn in by the clear health messaging of our campaign.
"In 2022 we will be doubling down on the work begun last year, with Dame Jessica leading a campaign which also involves the return of sampling and a campaign focused specifically on young, noisy, fitness influencers.
"We believe we are twisting the entire Fresh category in terms of consumer interaction and hopefully with Dame Jessica's endorsement we can help recruit the next generations of berry consumers and make a real difference to the nation's health and wellbeing in the process."
Commenting on her return, Dame Jessica Ennis-Hill said: "I'm delighted to be back for a second year helping to get Brits eating delicious, healthy berries.'