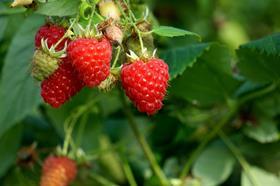 BerryWorld has landed two Superior Taste Award at this year'sInternational Taste Institute Awards, adding to seven previous awards from the organisation since 2018.
This year's winning varieties, from the BerryWorld Plus breeding programme, were Diamond Jubilee/BerryWorld Gem and another new commercial variety, which is soon to be launched. Both won two stars for their superior flavour, appearance and texture, receiving outstanding scores from the independent jury of international chefs.
BerryWorld's portfolio also includes raspberry variety Sapphire/BerryWorld Jewel; premium blackberry BerryWorld Midnight from the Beekers Berries Breeding programme; a selection of strawberry varieties such as Sweet Eve from the Edward Vinson programme; as well as blueberry varieties BerryWorld Twilight and BerryWorld Eureka from the MBO programme.
"This double award recognises our efforts to continuously bring superior quality berries to market all year round," said Adrian Olins, divisional CEO at BerryWorld Group.
The soft fruit supplier said R&D is at the core of its varietal strategy and the group has been investing in varietal development for decades to improve the breadth of its exclusive varietal portfolio.
Globally, BerryWorld runs trials in Spain, the UK, the Netherlands, Australia and South Africa, studying the progress of their latest releases while mastering production curves for its more established proprietary and exclusive varieties.
"Whilst our current varieties are being well appreciated by the market, we are particularly optimistic about a number of recent releases across the berry patch which are showing game-changing characteristics," said Olins.
"Among these varieties, it is worth mentioning BerryWorld Eureka Sunrise, which is a significant step change and will revolutionise the blueberry market in the seasons to come."