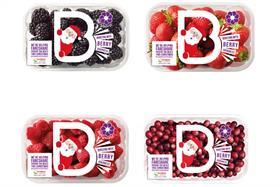 UK softfruit marketer BerryWorld is joining forces with food redistribution charity FareShare this Christmas to provide the equivalent of 20,000 meals to vulnerable people, it announced today.
In addition to supplying its fruit to the charity, BerryWorld said it will also make financial donations to FareShare and promote the charity on its berry packs.
"The campaign will be launched early December on a selection of BerryWorld's branded packs," Hannah Lumb, senior category manager at BerryWorld UK, revealed.
"We will be using flashes and QR technology on pack to raise awareness of FareShare's great work in the UK. And to promote the season of goodwill, we are bringing our limited edition Santa packs back into circulation for the month of December, available through Ocado.
'This Christmas, BerryWorld are sharing even more goodness by making an additional financial contribution to charity; meaning the equivalent of 20,000 meals can be distributed to vulnerable people via FareShare,' Lumb added.
To amplify the impact of the campaign and encourage others to contribute, BerryWorld has also set-up a JustGiving page to inspire further donations towards FareShare projects in the UK.
"It has been a tough year for many families across the UK and, because it is the season of goodwill, we hope this campaign will also encourage others to support FareShare's work with vulnerable people," Charlotte Knowles, head of marketing, BerryWorld Group, said.
BerryWorld said its goal is to provide fruit and donations equivalent to 300,000 meals in 2020.
The marketer first approached FareShare earlier this year when Covid-19 turned people's lives upside down.
Since then, BerryWorld UK and some of its British growers have diverted over 110 tonnes of fruit, with support from the Surplus with Purpose Fund - which makes it cost neutral for food businesses to divert their surplus food to people in need via FareShare's nationwide network of 11,000 frontline charities.
This fruit has so far contributed towards the equivalent of around 261,100 healthy meals provided to those supported by FareShare in the UK, BerryWorld said.
"Partnering with FareShare has provided an outlet for fruit that may have otherwise been wasted, usually fruit which is either too small or misshapen. It's great to know that our surplus fruit has been effectively utilised to produce healthy meals for vulnerable families and individuals," explained Emma Henry, senior responsible sourcing manager at BerryWorld UK.
Commenting on the partnership, Jo Dyson, head of food at FareShare, said: "Working with BerryWorld, we've been able to help thousands of people to access quality, nutritious fresh fruit, which is always welcomed, enjoyed and important in helping to achieve a healthy diet. The support we have received from BerryWorld and their growers is important to our operation and our charity partners and we look forward to continuing to work with BerryWorld in the future."
FareShare is the UK's largest food redistribution charity, with more than 30 warehouses across the UK. It takes food from the food industry that can't be sold in shops, either because of packaging errors, a short shelf life or overproduction, and redistributes it through a network of 11,000 frontline organisations, across the UK such as homeless hostels, school breakfast clubs, domestic violence refuges, older people's lunch clubs, food banks and hospices.
Since the coronavirus pandemic, FareShare says it has more than doubled its work, providing the equivalent of more than 2 million meals a week to people who might not otherwise eat.