J.O. Sims forecasts a "good crop" of English cherries, with harvesting starting slightly earlier than usual
One way to cement your position as a leading cherry distributor in a competitive market is to offer customers continuous supply. This is something Spalding, UK, based fruit importer J.O. Sims recognised a quarter-century ago and has been steadfastly developing ever since.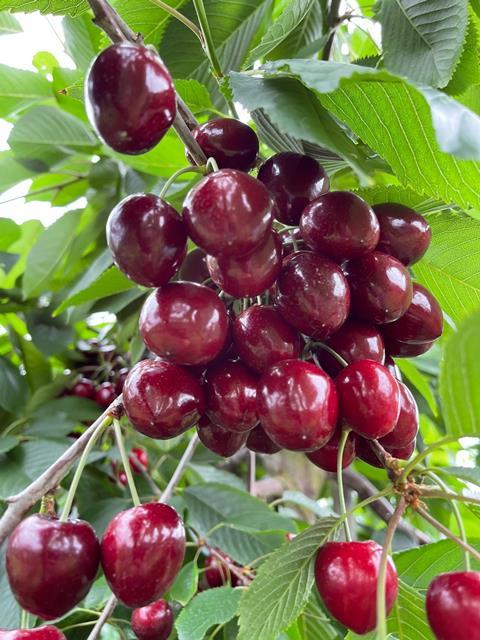 The family-run firm, considered one of the UK's leading suppliers of fresh fruit, fruit ingredients and fruit snacks, has built up a portfolio of cherry orchards that now spans the globe and, consequently, all available cherry seasons.
Its oldest farms are in Washington, US, and go back 25 years, while its Spanish, Chilean, Canadian, South African and UK operations were all established within the last decade. Production in these areas has also given rise to market diversification for the firm. For example, some of its South African volume is exported to the Middle East and Asia, while the bulk of its Washington crop is marketed in the US.
That said, the UK market has remained J.O. Sims' top priority throughout, and the reason behind its drive for continued cherry expansion.
"The whole idea behind developing these farms was to give security for our retail customers in UK," explains J.O. Sims procurement director Darren Matschull. "Any surplus is then marketed around the world. Our UK customers take precedence, and all sales are managed from the UK, with the exception of our Washington volumes, which are handled by US marketer Stemilt."
To date, J.O. Sims sells some 7,000 tonnes of cherries to UK retailers each year, he reveals. That volume is increasing annually, both from J.O. Sims own farms and the suppliers the firm works with.
"Whereever we grow in the world, we grow at the difficult times of the year so as to let the mainstream growers take care of the peak seasons," Matschull explains. "We've probably spent around 40m dollars on cherry farming around the world. Now we're being more strategic and looking at how we can plug traditional gaps in cherry supply, such as in April, early May and October. Our farms in South Africa are producing in October, and we see great opportunities there, for example. The next opportunity is finding the right place to grow cherries in April, and some people are trialling production in Morocco and Mexico."
With regards J.O. Sims' British cherry crop, Matschull expects the majority of its UK suppliers' and own Worcestershire orchards' yields to come on stream towards the end of June and during the first week in July. Though, speaking in June, he reports that one or two English growers had already started harvesting, which, he remarks, is "very early".
"I'd say the cherry crop on average for the UK is five-to-seven days earlier than last year," he says.
Matschull attributes this early start to a combination of good weather in spring, the increased use of closed polytunnels for production, and plantings of new early cherry varieties now coming into bearing.
Whether this is the start of a new trend in the British cherry calendar is not a given. "It remains to be seen whether it's worthwhile financially to produce these early varieties in the UK," he says. "How productive these early varieties are; the costs involved in growing them – all these things need to be weighed up against a plentiful Spanish crop available in the UK at the same time."
Most growers are reporting a "very nice" crop of English cherries, adds Matschull. "It's probably not as plentiful as they were predicting four or five weeks ago due to June drop and aborting, so what looked like a very big crop has turned into just a good crop.
"Nobody will be complaining. Everyone's reporting they have more cherries than last year, which wasn't a great year due to weather."
With the UK season starting a fraction early, the question now is whether the whole season will finish early. "That is something we don't know the answer to," says Matschull. "We would expect that most of our English suppliers will have finished their later varieties by mid-August, but one of the later varieties is the Sweetheart variety, and that's probably the variety that is looking the lightest in crop in terms of yields and volume. So, the season might finish early with a little bit less crop."
He adds that more and more cherries are being grown in Scotland, where the season runs significantly later. "These sell into mid-September, sometimes later, and are sold alongside Canadian and Washington cherries."
This is in line with a UK grower trend to extend the British cherry season and capitalise on consumers' growing appetite for home-grown fruit, in spite of mounting labour and production cost challenges. Difficulties replicated around the world.
Nevertheless, J.O. Sims feels secure in its role as a leading UK cherry supplier. "I think JO Sims have done very well with cherries because of our global cherry orchards," says Matschull. "Retailers see us as having very good vertical integration; as a supplier from farm to shelf, and retailers like the security of that."