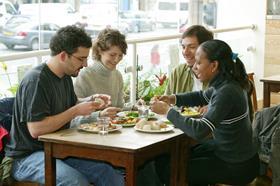 Bidvest 3663 has changed its name to Bidvest Foodservice as part of a wider brand evolution across the group to create a clearer identity.
The news comes as Bidvest has invested in a new depot and headquarters in Slough, and recently acquired foodservice provider Cimandis in the Channel Islands. The company said both moves signal Bidvest Group's long-term commitment to developing the foodservice business in the UK.
"We are delighted to welcome the team and customers of Cimandis to the Bidvest Foodservice family,' said Bidvest Foodservice's CEO Andrew Selley.
"In line with our decentralised model, Bidvest will continue operating Cimandis as an autonomous and independent business, following the model we already successfully employ around the world.
"We believe this partnership opens up new opportunities for both businesses; for Bidvest it allows us to further extend our footprint in Jersey, Guernsey and Alderney, whilst the Cimandis team and customers will benefit from the financial and strategic support of the wider Bidvest group."
The current management and staff of Cimandis will transfer over to Bidvest when the sale completes, and Cimandis will continue to operate as a regional wholesaler.
Meanwhile, Bidvest Foodservice's new logo will start to appear across signage and communications from 1 July, and the company has also created a new vision and future strategy, which is being rolled out through a internal engagement programme.
In addition, the company's website has been re-branded and moved to a new address,www.bidvest.co.uk.
"Changing our name signifies much more than redesigning a logo," said Selley. "Our new identity marks a new era for Bidvest Foodservice in terms of culture, our structure and our operations.
"We have worked hard to review every aspect of the business with customer needs in mind, starting with the appointment of local depot general managers who have a key role in supporting the drive for service excellence.
"This has enabled us to put decision making closer to the customer, so that our teams can be more responsive to local needs."
He added: "As part of our review, we identified five key ingredients that our customers demand from their preferred foodservice supplier; from delivering service excellence and providing great food choices, to offering real value, being forward thinking and employing the best team. These ingredients are the bedrock of our business."