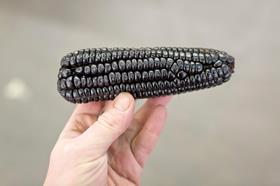 Next year vegetables will turn to the dark side, with black tipped to replace purple as the trendiest colour for veg at London restaurants.
Last year saw the rise of purple produce, with purple cauliflower, Brussels sprouts and asparagus all gaining traction in foodservice in the capital. But next year, if a survey from New Covent Market is to be believed, black produce will take centre stage.
Wholesalers at the market, which supplies fresh produce to London's top 20 restaurants, named black produce as the top trend in its annual Fruit and Vegetable Trends Report 2018, based on an in-depth survey of its 100-plus traders.
Black vegetables, including a South American sweetcorn variety, aged garlic, radishes and Shetland black potatoes, were all mentioned by traders, who reflected on the growth in demand for dark hued produce from some of the capital's most revered restaurants.
The survey provides a sneak peak at what the likes of Le Gavroche, The Dorchester, The Four Seasons and The Wolseley might choose to serve up next year.
Helen Evans, business development director for New Covent Garden Market, said: "Gaining an idea of new and continuing trends into next year can help to guide chefs and caterers with menu planning to ensure they stay on top of the latest trends with regard to the most popular and on-the-rise fresh produce."
In order of importance, the other the top trends identified by wholesalers were for: heritage produce, exotic citrus, break-through kale varieties, British berries, specialist potatoes, named tomato varieties, wonky veg and extravagant salad leaves.
In the report, market wholesalers reported a distinct increase in the popularity of full-flavoured and quirky looking old-fashioned varieties, such as sprouting and baby cauliflower, candy-striped beetroot, purple and yellow heritage carrots, short season Fenland celery, and red William pears – all traditionally used in times gone by.
Similarly, innovative varieties that harp back to heritage produce, such as Chantenay carrots and piccolo parsnips, have been tipped for popularity.
Respondents also noted which new products they had seen emerge in the last 12 months, with the top answer being unusual citrus.
Giant citrus such as the Cedro lemons, whose pith, zest and flesh can be fully utilised in cooking, made the list – as did yuzu, bergamot, Italian lemon variety limone di Ponza, green-skinned Asian citrus such as Miyagawa clementines, and Tangelo, which tastes like a cross between a tangerine and a grapefruit.
The product that saw the biggest uplift in sales in 2017 was kale, followed by British berries; sweet potatoes, and other specialist potato variants; and Datterini and San Marzano tomatoes.
Driven by consumer trends, the elevated sales of these products are expected to carry into 2018, aided by an increased consumer leaning towards veganism, superfoods and British provenance.
Wholesalers also reported an increase in demand for 'wonky' or otherwise imperfect fruit and vegetables as consumers continue to support sustainability and the war on food waste.
The rise of more interesting salad ingredients, such as baby kale, tatsoi, winter purslane and land cress, has meant that Iceberg lettuce has suffered a sales decline and is unlikely to make a comeback in 2018.