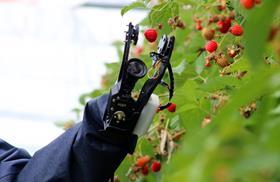 Bosch UK has signed an agreement with the agritech firm Fieldwork Robotics to help speed up the development of its novel robotic harvesting technology for soft fruit and vegetables.
The engineering and tech multinational, which is headquartered in Germany but also has a large base in the UK, willcollaborate with Fieldwork's engineers to optimise the company's soft robotic arms and develop software aimed at reducing the arms' cost and increasing their speed.
The aim is to move into full-scale production of the robots and the agreement between Fieldwork and Bosch is a significant step forward in the commercialisation of the technology.
Intellectual property specialist Frontier IP holds a 26.9 per cent equity stake in Fieldwork following the completion in January 2020 of an initial equity funding round for the company.
This agreement between Fieldwork and Bosch represents a further deepening of Frontier IP's relationship with Bosch, a leading global supplier of technology and services that employs around 400,000 people worldwide.
Rui Andres, chief executive of Fieldwork Robotics, said: 'This agreement is the result of several discussions between all the parties and the increasing interest in robotics within Bosch's agribusiness. We are looking forward to working alongside Bosch to further increase the pace of development and preparing the future path of our robots'.
Frontier IP chief executive Neil Crabb added: 'Agricultural automation is a long-term trend, but one which has been thrown into sharp relief recently from the impact on human labour of Covid-19, demonstrating the potential value of Fieldwork's technology. We are very much looking forward to working with Bosch UK on this project.'
Fieldwork Robotics, a spinout company at the University of Plymouth, is initially focused on developing robots to harvest raspberries which are more delicate and more easily damaged than other soft fruits, and grow on bushes with complex foliage and berry distribution.
Together with the University of Plymouth, Fieldwork is also developing proof-of-concept robots for other crops following interest from leading multinational agribusinesses.
The agritech company is using the £298,000 raised in its January funding round to accelerate development and scale up of its robotic technology.
Work to date has also been supported by a £547,250 Innovate UK grant as part of a £671,500 project to develop the multi-armed robot prototype. Other partners in the project included the University of Plymouth and the National Physical Laboratory.
Fieldwork was incorporated to develop and commercialise the work of Dr Martin Stoelen, who splits his work between the University of Plymouth, where he lectures in robotics and leads the Soft and Adaptive Robotics lab, and as an associate professor at the Western Norway University of Applied Sciences.
Dr Stoelen has also led projects to develop a cauliflower harvesting robot systems and a tomato picker, a project run in partnership with the Shanghai Jiao Tong University.