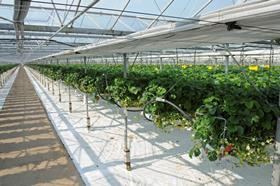 Fruit grower Boxford (Suffolk) Farms has acquired soft-fruit producer Wallings Nursery.
Boxford is an 82-year-old family business, and its Home Farm site neighbours Wallings, in Lawford, Essex. It also has its own packing and marketing subsidiary Peake Fruit, from where Wallings fruit is packed and distributed.
The company grows apples, cherries, strawberries, raspberries, blueberries, asparagus and rhubarb, and revealed it has plans to increase production of all crops to meet growing demand.
Wallings was established in 1999 and produces glasshouse strawberries exclusively for Sainsbury's. The business supplies via Berry Gardens and has won awards for growing and innovation.
Robert Rendall, group director at Boxford, said: "The combination of the two neighbouring businesses takes Boxford Farming to over six hectares of glasshouse production, with planning permission for a further two hectares. This is in addition to our tunnelled soft-fruit and netted orchard fruit crops. We are so excited about the future growth opportunities that this opens up for both businesses through combined projects."
Farms director Robert England added: "I am really looking forward to working with Will, Rado and the Wallings team, learning from each other to create a truly exceptional soft-fruit enterprise. I am also happy to announce that this acquisition coincides with the recruitment of Jon Marcar, previously of Berry Gardens, to head up agronomy and propagation for the farming group."